The search for supportive layer has been a total failure, until now. These M Rena Women's Lace Camisole Tank Top are stretchy, 92% nylon, 8% spandex. They are ribbed and seamless with gathers that gently provide shaping and support for lounging and sleeping. It's quite long, and the hip length works for a long torso. It is made in the USA. This is nightshirt nirvana, or as close as I've come to it in ages. And it's not just a basic, but a great layering piece. These camisoles are the perfect complement for easy wear, yet incredibly sexy! It's a must have. You'll instantly fall in love with these M-Rena seamless corset camisoles. Seriously, We love them. As a girl who has lived in fear of the uncomfortable camisole for a long time, let me help those of you who have the same issues, give the M-Rena women's lace camisole tank top a try, and I'd be remiss in my writing if I didn't warn you about it. However, they are addictive. If you buy them in a neutral color hoping to get good wear out of it, you'll end up with almost every color and never wear another brand of basics again.
Thank you M Rena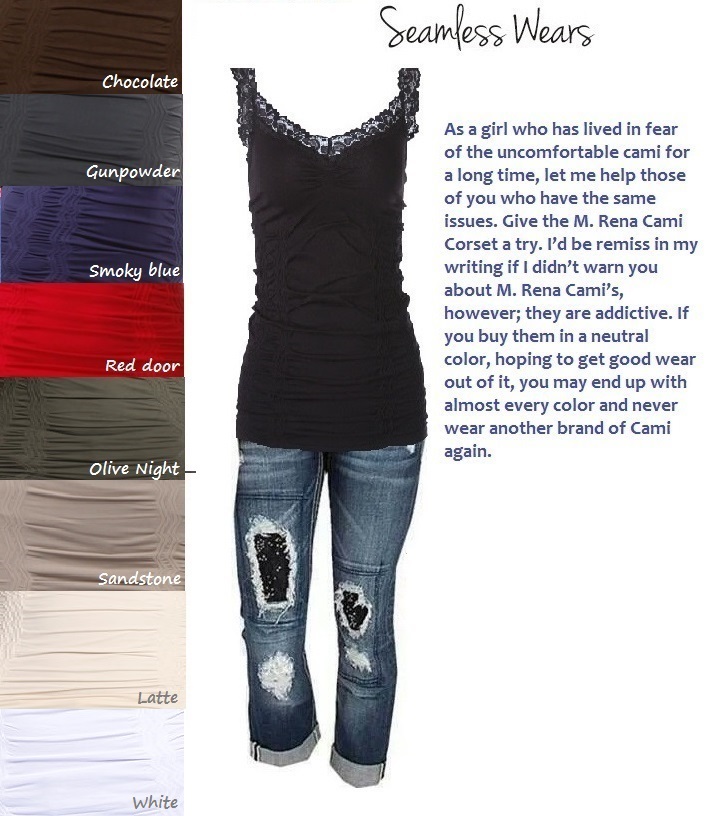 Feel Incredibly Sexy
Are you in the mood? M Rena also offers their seamless camisole corset look in a sexy cropped version. Feel Incredibly sexy with this cropped lace bralette, They boast a soft lace detailing combined with a ribbed back for a flattering shape and absolute comfort. Looking for a great shade of yellow? Choose blazing yellow for a fun springtime look!