When looking for great leggings, M-Rena has the Multi-functional leggings: Support, Comfort, Durability and Quality. They provide a tummy panel type of support, which make me feel in heaven! M-Rena has 4 types of Tummy Control Leggings which I'll explain letter, but with no doubt my favorite ones are the rayon ones. Why do I love rayon? Rayon makes such great warm-weather wear and they can be casual, comfortable and incredibly cool on even the hottest Southern California day because it absorbs the sweat. Rayon washes beautifully, it does not get the lint or static from other clothes like nylon. Just remember this rayon leggings are not jeans and they are always going to be a little bit see through so you must wear them with a tunic to cover your butt.
No more fear of the dreaded muffin top. These leggings are great for new moms because It slims down the midsection! I call them The Slimming collection because You look instantly slimmer with our M Rena Tummy Control Leggings. They have a secret interior stitching with high waist band that creates a super-slim effect making them The most fabulous high waist leggings that flatters every figure. The leggings that every woman wants and needs!
Mid-section/Love Handles: 6″ High waist band, one-piece seamless construction helps slim and flatten your upper abs, lower abs, core and love handles.
Hips: Medium control helps slim and control hips.
Buttocks: Comfortable compression helps reduce the appearance of cellulite giving you a firmer, lifted more shapely buttocks.
Inner thighs: Inner thighs are compressed to appear thinner and leaner.
Outer thighs: Smooth's and tones outer thigh bulge.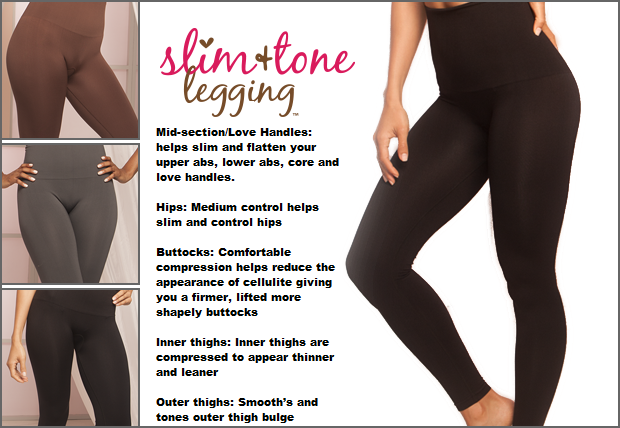 Denim Leggings are like the best skinny jeans ever! These denim leggings are so easy to match because since the fabric is a denim blend, thicker than a rayon legging, it won't be see-through and you will be able to wear a shorter top with them and show off your booty. The best part is that if you are not super fit, these denim jeggings will hold you in and you'll feel more secure so you won't have to worry about visible cellulite or panti lines. Just make sure not to match them with a super-duper tight blouse or it will ruin a chic and elegant look.
Leggings are always the biggest fashion trend for Fall These amazing M-Rena Sweater Leggings will for sure keep you warm and looking great, they are definitely a must have.

These leggings have a great support so again even if you are not supper fit they will hold you in giving you a big dose of confidence. Their Lacey texture gives them a very unique appearance. They look like lace tights, but thicker and obviously very durable. They will definitely became one of your favorite fashion hosiery because they will add an exciting texture to your outfits. These designs allow you to wear lace without looking overly feminine or overly vintage. Simply combine them with a solid tunic to balance your look.